Microstock earnings report - October 2009

1. November 2009, 03:50

Selling graphics

Exactly as I predicted, October was again Best Month Ever (BME) for me in microstock! The earnings were so good, that I'm not sure if the next month will be better again (November was the best month every year – look at the history graphs in my report). I had the BME on Shutterstock, Dreamstime, Stockxpert, Fotolia and 123RF!
Graphs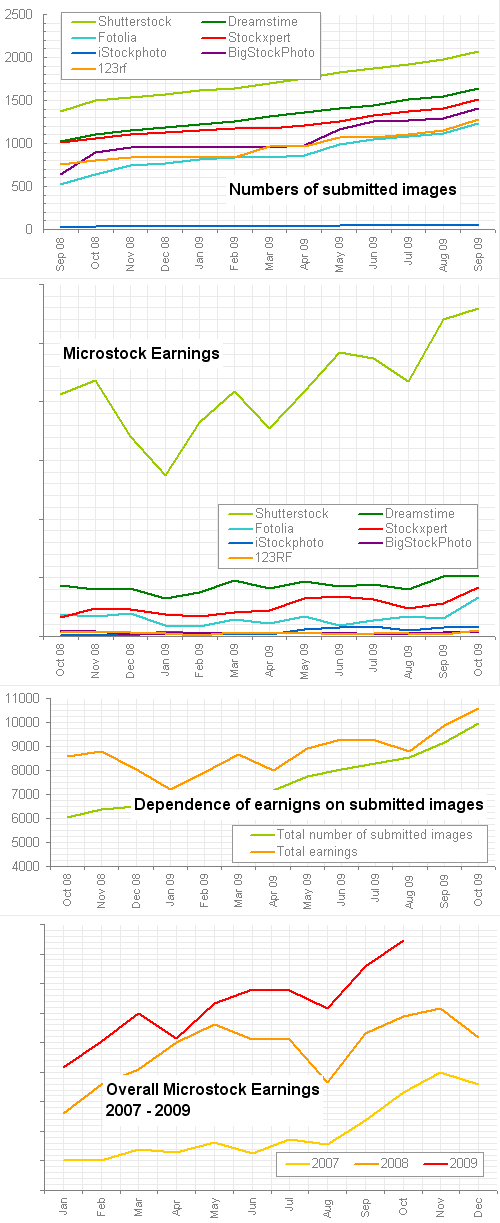 Extended licences
The biggest surprise is that I achieved so nice results with only 2 Extended licences from Shutterstock!
Best microstock sites this moth
Final order of best selling sites for October 2009 (the order is same as previous month except last two positions):
Some findings:
If you look properly on the graphs, you can see, that the biggest improvemens are on Stockxpert and Fotolia. I think, that it is because I started with uploading of my illustrations in proper vector format (two months ago it was too complicated, because I was too lazy to prepare zip files for those sites, but now, when I'm using iSyndica it is really quick and simple).
Comments
I think October, 2009 was Best Month Ever for most of us:) And I hope, November also will be the Best Month Ever!
« Microstock earnings report - September 2009 How to reduce EPS file size »
Best microstock sites
This list is sorted according to contributors - the most valuable sites first:

Shutterstock

Fotolia

Dreamstime

iStockphoto
BigStock

123RF
Crestock

Graphic Leftovers

Depositphotos
Read more info about those agencies.
Do you want to buy images?
Big microstock sites review with comparison of the prices, portfolio and subscription programs
Most popular articles

How to start selling photos and illustrations on microstock

The best microstock sites for selling photos, illustrations, footage, flash

Microstock for designers - where to buy photos and illustrations

10 tips for photographers how to get accepted by ShutterStock
Last 3 comments
My last tweets
Book tips

Ellen Boughn:
Microstock Money Shots - Turning Downloads into Dollars with Microstock Photography
$15.96
Free worldwide delivery)
Dispatched within 24 hours