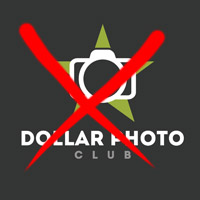 Because Dollar Photo Club will terminate its service on April 15th, 2016, now is the right time to take a look at some alternatives – find some stock agency with similar price / selling model. The best solution – right now – that I found, is 99 Club from Stock Photo Secrets, but there are also some other possibilities…
What is / was Dollar Photo Club?
Dollar Photo Club (DPC) was founded by Fotolia in 2014. It was one of the cheapest stock subscription site. The main idea of this service was: For 10 bucks / month you can download 10 fullsize photos or vector illustrations. If you want more, you can have it for 1$ per image (but every month you have to pay 10$).
Why is Dollar Photo Club closing?
In january 2015 Fotolia was acquired by Adobe and integrate the whole Fotolia portfolio to its Adobe Creative Cloud (Fotolia site is – and will be – still running and selling stock). But Adobe decided to close the DPC project and offer the similar service as Adobe Stock, but with different – higher – prices. Members of DPC will be migrated to Adobe Stock, where they can use the same service and prices – but only for one year. Then the prices will be much higher.
If you didn't use DPC in the past, then the price of Adobe Stock subscription is 29.9$ / month / 10 images
What are the alternatives to Dollar Photo Club?
Here are some possibilities, that I found
You can use standard subscription plan on other microstock sites, but the standard offer is 25 images / DAY for around $200.
Better solution is to buy credits on some stock site. The cheapest  is Canstock Photo, but it is still not as friendly as DPC.
So the only one site, that I found, which is offering similar model and prices as DPC is a smaller agency Stock Photo Secrets with its 99Club.
They offer yearly subscription plan for 99$, where you can download 200 images in full resolution / vector illustrations or fonts (that's twice more than DPC), if you will need more, you will pay 99 cents per each.
The only disadvantage is, that the portfolio of Stock Photo Secrets is smaller then DPC – it containt "only" 4 millions files (but I thinks, that is good compromise). 
Do you want 10 more images for free?
As a reader of my site, you can get 10 more images for free! Use this link for purchasing the subscription and you will get 10 more images for free.