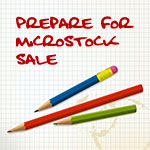 On most microstock sites accepts vector illustrations in EPS format (in version Illustrator 8) with generated JPG preview of the illustration. Some of them wants it in ZIP, some need just small preview and others big. In this article I will show you the best and easiest way, how to prepare the illustration in desired EPS format and how to generate JPG preview.
Before you upload your vector illustration on some microstock site, you have to:
Preparation tasks
Before we create the JPG preview and EPS export, we need to check the illustration for potential issues and fix them.
Clipping mask – hiding objects behind the illustration boundary
Sometimes parts of your illustration exceeds the bounds of your illustration. This is unwanted for some microstock agencies, so you have to trim it.
See the example: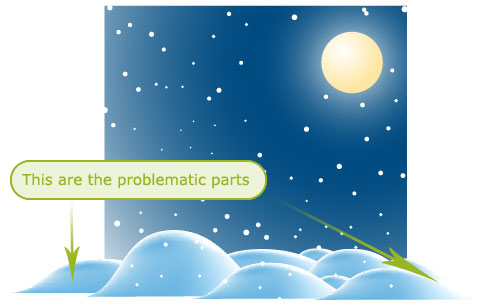 The problematic objects are the hills. Dreamstime and sometimes Shutterstock don't have problem with it, but others will reject it (iStockphoto, Stockxpert). Fixing of such problem is quite easy with Clipping Mask (of course, that there are also other methods, how to fix it).
You have to draw a rectangle (with any fill and stroke), which will make the boundary of the final illustration. This rectangle must be in the top layer as the highest object.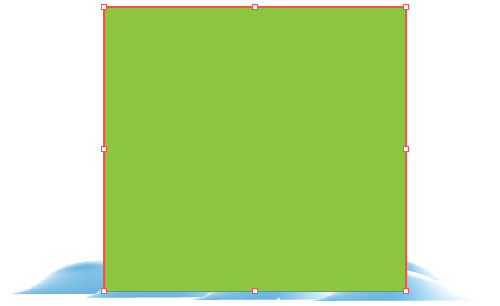 Now select all objects (CTRL+A)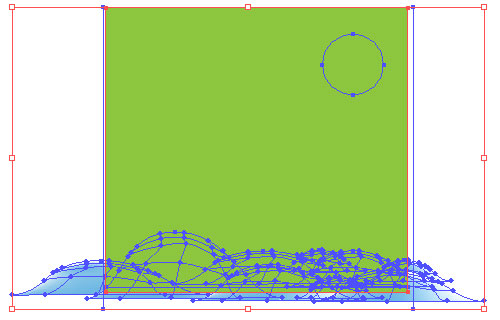 And apply the Clipping Mask – Object / Clipping Mask / Make (CTRL+7). The result should look like this: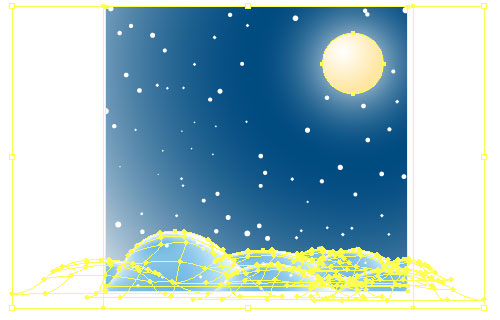 Click somewhere or deselect all objects (Select / Deselect or CTRL+SHIFT+A) and you will see the final result: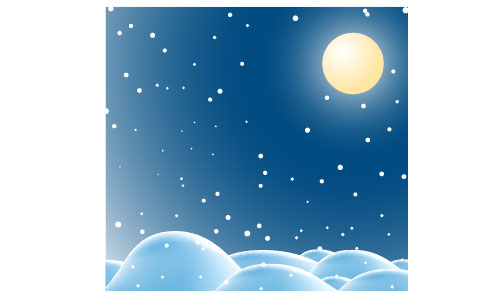 Crop Area
Sometimes the situation is a bit different – you have object on white background and want to specify some padding around them – in such case you have to define Crop Area. You will use this for JPG export, otherwise the object on your JPG preview would be from one side to another without any space around (it will be tightly cropped).
I will show it on this illustration: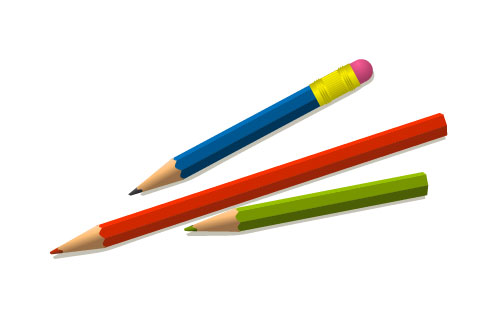 Defining a Crop Area is really simply – just draw it with rectangle tool:
This rectangle can have any fill and stroke and can be positioned in any layer.
Now just select the rectangle and use Object / Crop Area / Make. And that's all – you should see a cropping rectangle around it: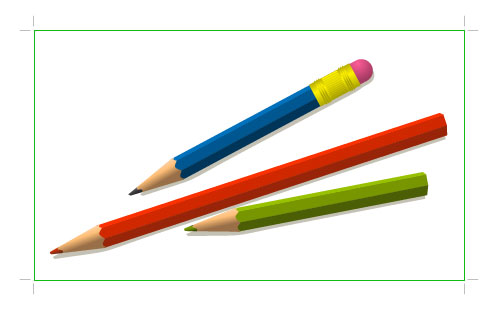 Convert fonts to outline
If you use some text in the illustration, you have to convert it to paths. Simply select the text object and apply Object / Expand:
Clean up
Delete all hidden layers and objects, or temporary object which are not part of the illustration. You can switch to Outline view (View / Outline or CTRL+Y) to see if everything is OK. Also you can use useful short cut for displaying all (hidden) objects on the canvas – Object / Show All or use short cut CTRL+ALT+3 (I wrote about it in one of my Illustrator tips & tricks).
Close all open paths
You should close or delete (if such paths are not needed) all open paths. You can find them easily in Outline view (View / Outline or CTRL+Y) or use nice plugin, which will select them for you (read and download it from Rick Johnson/Graffix site).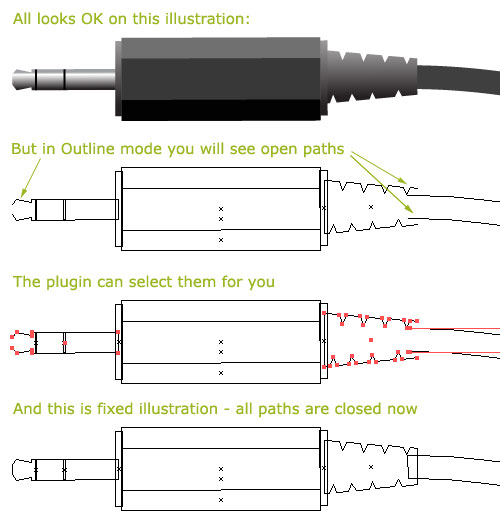 The highest requirements on the illustrations has iStockphoto, you can read them all here in their Illustrator Training Manual – check carefully sections 4 and 5. The lowest requirements have Dreamstime
and Shutterstock (there you don't need to close all paths).
Create the EPS
Now should be your illustration ready for export to EPS format. As I mentioned above, microstock agencies needs the illustration in EPS format version Illustrator 8, to save it in this format, just use File / Save As (CTRL+SHIFT+S) and choose EPS format:

In the following dialog we must change some settings according to this image: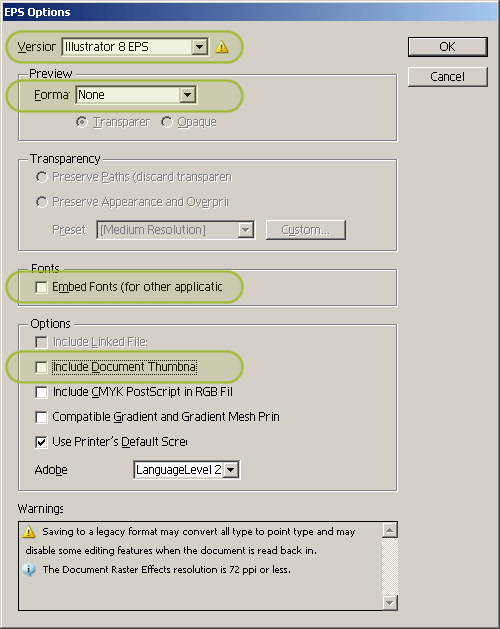 First off all change the version to Illustrator 8 EPS
Turn of Preview (select None) – Preview option would add just a TIFF image preview and would make the final EPS file bigger
Turn off Embed fonts – all texts should be outlined (check the text about converting texts to paths above)
Turn off Include Document Thumbnail (similar to Preview option)
Now just click OK and save it on the drive.
Create the JPG preview
Last step is creating the JPG preview – some agencies need small previews, others accept big and anothers require big. So what size to choose? I prefer big previews, because they are accepted by most of the agencies and when you need smaller, you can always create them later from bigger ones.
For example Dreamstime sells vector illustrations same way as photos (you can upload the EPS as an additional format and it is not necessary), so the bigger versions generates bigger payments. This is the reason why I'm creating the JPG preview with dimensions around 16 Megapixels – 4000px × 4000px. I'm then selling those big JPGs also on Fotolia, Stockxpert, BigStockPhoto, because I'm too lazy to upload EPS files there (I prefer spending my time in Illustrator then on the websites).
So now we will create the JPG preview – you can use File / Save for Web & Devices or a bit complicated (but much quicker and for web designers well known) shortcut CTRL+ALT+SHIFT+S.
On the preview of the illustration, you can check the padding and croping and if you are not satisfied, just cancel the dialog and use Crop Area or Clipping Mask again as described above.
Next step in the dialog is switching to Original view, because then are all operations (changing the format and the size) much quicker.
Now you should change the format to JPG with Maximum quality (100) – see the image: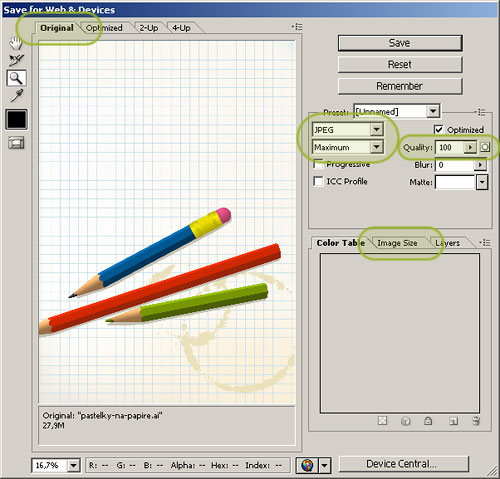 After that we need to change the size (dimensions) of the JPG image – this we can do in the Image Size tab: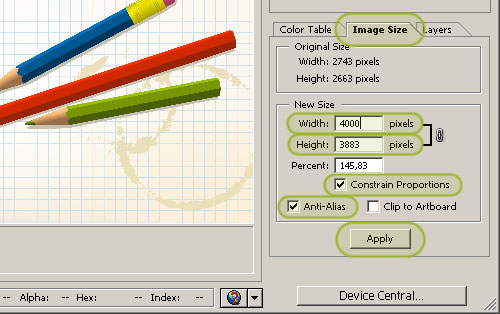 Change the width or the height (the second dimension should change automatically, because there is Constraint Proportions option selected). Use also Anti-alias for smoother curves and edges. And don't forget to hit the Apply button.
The resizing can took few seconds (depends on the entered dimensions and also on the illustration's com­plexity), when it is done, just save the file (button Save) on the drive.
Upload files to microstock
All work in Illustrator is done and now you have to choose some microstock sites (check my list of best microstock sites), register, upload and start earning some money! If you want to know how to start, check another my article: How to start selling photos and illustrations on microstock