In the middle of the May I made a decision, that I will post my microstock earnings here on my blog. Actually I don't want to post here my my earnings in dollars (I don't want to boast about my earnings), but I want to show the trends – if the earnings are going up or down (I'm quite stable in submitting). The graphs also show you, what are the best microstock sites for selling images – that's the reason, why there are 2 graphs – one showing the money and another showing number of submitted images.
Earnings graphs
I put all graphs in one image, so you can better see the dependence of the earnings on the amount of submitted images: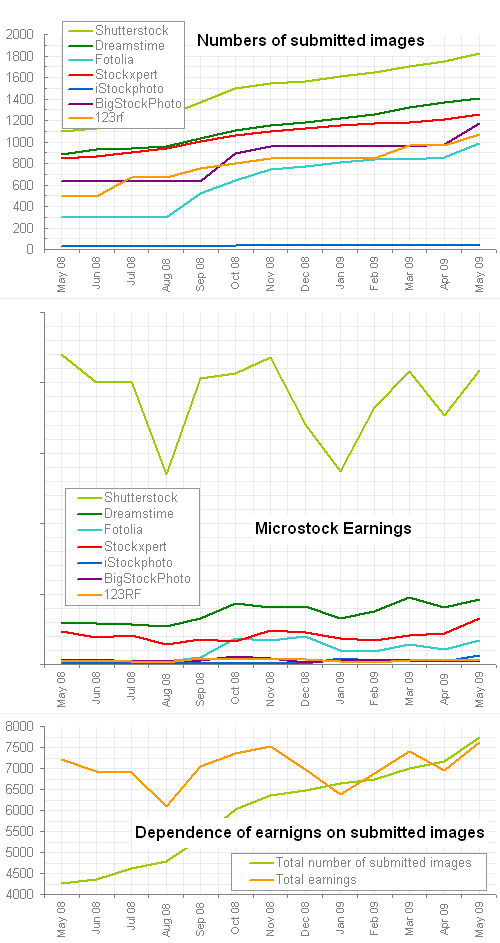 Initial graphs explanations
Because I want to post those graphs regularly every month, here are the initial explanations and notes about earnings history.
Graph 1: Numbers of submitted images
This graph is showing how I'm adding new images to microstock sites. As you can see on some sites (Shutterstock, Dreamstime, Stockxpert) I'm adding regularly, on the others fitfully. On iStockphoto I'm adding rarely because of their complicated upload process.
Graph 2: Microstock earnings
Here you can see which microstock agencies are the best for selling (you should compare it also with the size of portfolio I have there from the first graph). As you can see the Shutterstock is number one, then is Dreamstime, Stockxpert and Fotolia.
I should put here also some explanations about those big gaps on the Shutterstock earnings:
August 08 – My account on Shutterstock has been disabled for 4 days (I will post some details here on the blog in special article soon). It was because I used standard recycle symbol in one of my illustrations and didn't know, that it is not just a symbol, but also a logo with copyrigt.
January 08 – I didn't upload for 2–3 weeks (Christmas)
April 08 – I didn't upload 2 weeks (Easter)
Graph 3: Dependence of the earnings on the number of submitted images
Here you can see, that the earnings grows much slower than the size of the portfolio. There are several reasons for it:
economic crisis
rising number of photographers and images on microstock (higher competition)
May earnings observations
I have to say, that May 2009 is my best month ever in microstock (BME for Stockxpert and iStockphoto). Unfortunately it is not a trend, but because of amount of extended licences I had in this month:
Also I spent couple of hours by submitting new images on weaker agencies (you can see it on graph 1, which generates some higher sales there.
Best microstock sites this moth
Final order of best selling sites for May 2009:
Do you want to see some other graphs, statistics? Just leave a comment and I will see, if I can post it here (again, I don't want to show my numbers in dollars).