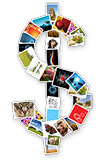 So you want to sell your photos, bitmap or vector illustrations, flash, footage or audio on the internet and earn some money, but you don't know where and how to start – right now you are in the right place, I will try to help you in this article – it should be a detailed guide for selling images.
Simple question – where to sell?
The simple answer is: on Royalty-free microstock sites – what the hell, is that? Check some definitions from wikipedia:
Microstock photography, also known as micropayment photography, is an offshoot of traditional stock photography. What defines a company as a microstock photography company is that they:

source their images almost exclusively via the Internet,
do so from a wider range of photographers than the traditional stock agencies – including a willingness to accept images from "amateurs" and hobbyists
sell their images at a very low rate (anywhere from $.20 – $10) for a royalty-free image.

A number of microstock sites also sell vector art, and some sell Flash animations and video, as well as images.
OK and what is royalty-free? Check the Wikipedia again.
Royalty-free (RF) – "Free" in this context means "free of royalties (paying each time you use an image)". It does not mean the image is free to use without purchasing a license or that the image is in the public domain.

You pay a one-time fee to use the image multiple times for multiple purposes (with limits).
No time limit on when the buyer can use an image.
No one can have exclusive rights to a Royalty-free image (the photographer can sell the image as many times as he wants).
A Royalty-free image usually has a limit to how many times the buyer can reproduce it. For example, a license might allow the buyer to print 500,000 brochures with the purchased image.
Simply said a royalty-free licence means that the buyer can use it several times, for various projects, but without exclusivity (other buyers can use it at the same time). The seller (author) can sell it on various sites (it is standard practice that photographers and illustrators sell their images on more – not only microstock – sites).
As you can see, the price of your graphic work on microstock will be just a few dollars (sometimes even less!), but on the other hand, you will make many more sales on microstock in one day than in five years on a classical stock site.
So what you will need
few minutes of your time (the more you put in, the more you will get back)
patience
a photo of your ID
a small portfolio of your own photos, illustrations,… (at least 10 pieces)
Step Registration
First of all you need to register yourself on some microstock site (it is free of charge). Part of the registration process (in most cases) is to upload a copy of your ID – it is a standard procedure for identification. On which sites can you register yourself? Check the list of best microstock agencies and also at the end of the article you will find some recommendations of which sites are the best for beginners.
Step Getting approved
After your registration, the agency needs to review your work – you have to send them your best sample images (3–10) and they will decide if you are good enough for them. If so, you can start uploading your files. If not, you have to work on yourself, select some better images and try again (or try again on some other agency). Some agencies don't use this step – it means, that you can start uploading your photos and illustrations immediately ( Dreamstime, Fotolia, BigStockPhoto, 123RF or Crestock). Others are quite hard – check some articles with acceptance tips and tricks.
Step Uploading images
Nearly every microstock site offers an FTP access, so you can upload your files quite easily (most of them has also upload via HTTP right on the web page).
There are some requirements on your files:
Photos:
JPG format in the best quality you can provide
minimum resolution of 4 MPx (width of the photo x height of the photo in pixels must be greater than 4 000 000) – on some microstock sites you will earn more money if you sell the image in greater resolution, so you should upload large images
the subject of the photo should be commercial (business, computers, scenes of contemporary life, isolated objects, portraits, seasonal images) they have enough photos of your pet, sunsets, landscapes, flowers,… (but if you have some really good ones, try it)
the photo shouldn't contain any logo or trademark, added texts, frames, watermarks, timestamps
if the photo contains an identifiable person, you have to add a signed model release
Vector illustrations (from Corel Draw, Adobe Illustrator,…)
format EPS version Illustrator 8
you have to add also a JPG preview of the EPS file
there are file size limits – around 6MB on EPS files (only on some sites)
some agencies wants to have the EPS file zipped
Bitmap graphics (from Adobe Photoshop)
same requirements as for Photos
Important note: The photo must be yours! Also if you are creating some illustration, you have to use your own sources, you can use part of the graphic work from the internet and just add some sauce around.
Step Image description and keywords
When your file is uploaded, you have to add some information to it – name, description, keywords, categories. This is very important part of uploading – the name and keywords has the power to bring the buyers to your pictures. The more accurate keywords you use, the better (try to use more keywords than only 5–10).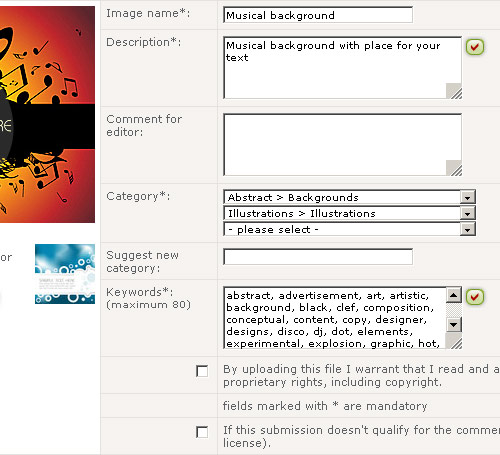 In this step you can use some handy tools:
Step Image review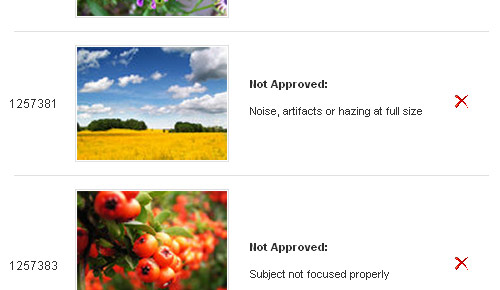 Now the reviewers from the microstock agency will look at your image(s) and approve or reject them (you will get an email about it). If your image is rejected, you can (sometimes) fix the problems and upload it again – it depends on the rejection reason, sometimes it is just in the description, keywords, sometimes you have two colour profiles in the vector illustrations, noise in the photo, and sometimes you simply can't fix it (poor quality, bad lightning,…).
Step Waiting for sales
It can take from 1 hour to 1 or 2 days after the acceptance of your image for it to be visible on the stock site / image search results. So the first sale can be within one hour (on some sites), but mostly within a few days – it depends on the quality of the picture, size and quality of your portfolio and also on the specific site. If you have 10 images in your portfolio you have to wait quite a long time for the first download, if you have around 1000 images, then you can have a sale every 5 minutes.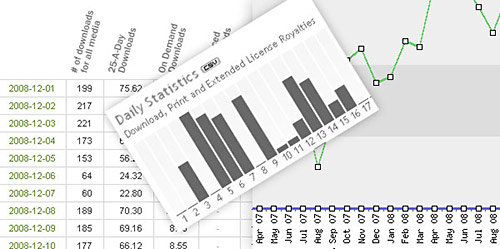 Sometimes people ask me – how much have I pay to get my photos / illustrations into microstock sites? Everything is for free on every microstock site – the agencies will get some percentage from your sales (agencies take around 50% – 70% of your earnings). So the final earnings for the author are around 25 cents to 30 dollars, mostly around 1 dollar.
Step How I get paid


Most of agencies offer 3 possibilities:
by cheque – they will send cheque on your address
by Moneybookers – they will send it to your Moneybookers account (and then you can send it to your bank account or just spend it at some internet shops)
by PayPal – they will send it to your PayPal account (similar to Moneybookers)
You can create your PayPal or Moneybookers account for free, you will pay just a small amount for transferring money to your bank account. There is not a big difference between Moneybookers and Paypal, just:
Paypal

better for shopping (more e-shops offer PayPal payment)
more expensive for sending money to your non US bank account (check the PayPal fees)
connected to your credit card
Moneybookers
less e-shops offer payment via moneybookers
cheaper money transfers to your bank account (check the Moneybookers fees)
you don't need to connect it with your bank account or credit card at all
You need to have minimum payout amount to transfer your money from the microstock agency to you – on some sites it is around $30, but mostly it is $50, $75 or $100. If you have bigger portfolio, then you will reach this minimum amount quite soon, but if you are just a beginner with a few images, then it can take you a few months to get your first salary.
Which sites are the best microstock sites for beginners?

My recommendation is to start on Dreamstime – the registration is easy and you don't need to send them sample files for review – everybody is accepted. So you can start uploading your images immediately! Of course, that some of your photos or illustrations will be refused for various reasons, there's a standard selection process, which will show you which images are good for microstock (once again microstock don't need any art production, they want commercial shots and illustrations).



You shouldn't be frustrated from the small amount of sales – you have to build a bigger portfolio to earn bigger money. With 10–30 images on Dreamstime, you will have 1–5 sales within one month (this is just a rough estimate, it depends on quality of your images). The more images, the more sales. After some time, when you get some basic microstock experience, you should try Shutterstock – it is the best (at least for me) agency, which generates the highest income for me. But it is quite hard to get there (check some tips). For more info about other agencies, check the list of best microstock agencies.
Referral earnings
Microstock agencies need new customers and also content submitters – so they offer affiliate programs. And as you can see all links on my pages have some referral code. If you use them for your registration, I will get a few dollars from those agencies (but only if, you buy or sell something). It is not much – you can't get rich from it, but it is at least some motivation for my writing and for helping you to be successful on microstock (if you have any problem, just leave a comment and I will try to help you). So please use those links, thanks.