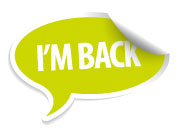 Sorry for the delay (7 months), but now this site should be updated more often (I really want to work on it).
There were several reasons for this delay. The main one was, that I didn't have enough time, because of moving from flat to house (we are still working on adjustment of our new house), new baby in family (lovely Anna, now she will have 10 months). So I spent more day time with family and night time with Adobe Illustrator (I have to feed the microstock beast more, because I need money for my mortgage).
But now… Now I want to update this site regularly. There are several articles, I want to publish soon, the first one should be published today.
I'm not sure, if I will regularly continue with microstock earnings reports (main reason is, that I lost some source data – my excel table with earnings, r.i.p my flash disk without backup). Do you find such reports interesting or not?
Right now I have quite a long list of topics I want to write about. But I'm not sure which are more important and valuable for you. So can you please use comments under this article and write me, what do you want to read here on Selling Grpahics site?